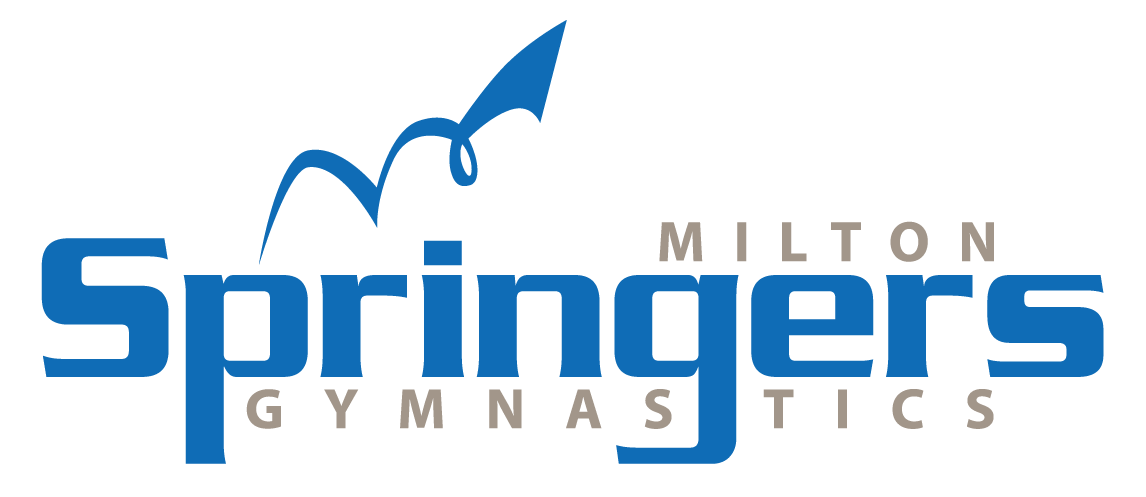 Winter Session Registration Opens November 8 @ 7:00 am
Top Content Title
This is an additional section to be able to add content
Competitive Team Try-Outs
How Do We Join the Competitive Team?
Aptitude testing for competitive programs is typically held in May. Previous recreation gymnastics class experience is recommended but a love for turning upside down and a demonstrated natural capability in strength, flexibility and coordination could be a sign your daughter is a gymnast! Dates are advertised on the club website and in the gym. Athletes with previous competitive gymnastics experience may call the gym and speak to the club's Competitive Program Director to arrange for an evaluation.
Milton Springers is a not-for-profit community sports organization governed by a parent-run Board of Directors. Competitive programs at the club are supported through the assistance and participation of its competitive team member families. Participation of our competitive members is integral in providing a quality experience for all of our gymnastics programs, as well as assisting in keeping club fees as reasonable as possible. Levels of participation are determined by the number of hours the competitive gymnast works out. Participation is fulfilled through taking on committee and/or executive positions, or signing up for participation points (e.g. helping run events at the club).
Helpful Hints and FAQ's about our Aptitude Assessment
Pre-registration and a $10.00 non-refundable fee is required for Try-outs.
Registration or payment will not be accepted on the day of try-outs, this must be done ahead of time.
What is involved in the Aptitude Assessment?
Approximately 60 minutes per group

Each group will have a maximum of 8-10 athletes

Each athlete will demonstrate her strength, flexibility, handstand development, muscle twitch capacity and basic skill level.

We will also be evaluating effort, coordination and application of listening techniques and application of corrections.

Body composition is another factor that will be taken into consideration during the aptitude assessment.
Day of Assessment
A bodysuit is ideal. If that is not possible, then tight fitting shorts and t-shirt are recommended, as we will also be looking at body composition.

Bare feet only please.

Hair tied back neatly in a short ponytail or bun.

No earrings, necklaces, bracelets, watches/fitbits or anklets please.
Athletes with previous competitive gymnastics experience may call the gym and speak to the club's Competitive Director to arrange for an evaluation. Requests for assessments may be accepted after the assessment date by contacting the Competitive Program Director at kristaj@miltonspringers.ca.
Bottom Content Title
This is an additional section to be able to add content