Springers Support Team of Experts
Milton Springers believes it takes a village to raise an athlete and we have surrounded ourselves with a support team of experts that, along with our coaches, can offer all levels of physical and mental support to our teams. We are proud to work with such a great group of professionals!
Dr. Mahmoud Zaerian DC, CSCS, BA
Team Chiropractor Medical Acupuncture and Certified Strength & Conditioning Specialist (CSCS).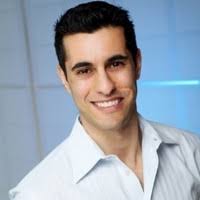 Dr. Zaerian is the owner and operating doctor at FOCUS, where he practices as a Chiropractor, provider of Contemporary Medical Acupuncture and Certified Strength & Conditioning Specialist (CSCS).
Dr. Mahmoud graduated from the Canadian Memorial Chiropractic College in Toronto and holds an Honours Degree in Kinesiology from York University. He also holds a certificate in Contemporary Medical Acupuncture from McMaster University, recognized by the American Board of Medical Acupuncture (ABMA) and by the American Academy of Medical Acupuncture (AAMA).
Complementing his manual medicine and acupuncture training, Mahmoud is also Certified Strength & Conditioning Specialist through the National Strength and Conditioning Association, recognized internationally.
Understanding that there is more than the individual parts of our body, Dr. Z approaches the care and conditioning of his patients with an integrative approach to therapeutic care as well as placing special attention on specific corrective and performance based exercises to enhance recovery. As the creator of F.I.T. (FOCUS Intensive Training), Dr. Mahmoud utilizes strengthening and rehabilitative methods to restore optimal functional movement patterns within the body in a mindful and intentional way.
Dr. Z is a Neuro-functional Sports Performance Practitioner and is considered a leading edge practitioner providing a neuro-functional approach to the assessment and treatment of movement disorders and pain problems. This approach emphasizes assessing the body as a functioning system, and integrating a multi-level approach to the recovery of pain problems.
Dr. Z is a senior instructor in the McMaster University Contemporary Medical Acupuncture course and is the Course Director for the Functional Therapeutics and Movement Assessment & Palpation courses run in the city and throughout Canada. This approach is taught at McMaster University as part of the Contemporary Medical Acupuncture Program where he is a senior instructor.
Dr. Mahmoud works with various athletic organizations including the Gymnastics Canada and Gymnastics Ontario. He is a national team therapist for the Men's and Women's Canadian Gymnastics team and has worked with athletes over the course of his 18 year career including our women's Olympic hockey team and more recently working with Athletics Canada. He has working closely with gymnastics over the last 6 years along with putting together a manual to support coaches in developing gymnasts for injury mitigation and enhanced performance.
Dr. Mahmoud Zaerian
Focus Integrated Therapy
DC, CSCS, BA
Email: drz@focusitc.ca
Andrew Hill MPT, BScKin, FCAMPT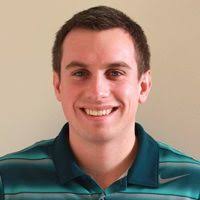 Andrew graduated from the University of Waterloo with a Bachelor of Science in Honours Kinesiology. He went on to complete his Master of Physical Therapy at the University of Western Ontario, where he completed a master's research project investigating the effects of ACL bracing after reconstructive surgery. He has also successfully completed his Diploma of Advanced Manual and Manipulative Therapy through the Orthopedic Division of the CPA and is a Fellow in the Canadian Academy of Manipulative Physiotherapy. Andrew obtained his acupuncture certification through McMaster University and is interested in pursuing further training in IMS.
Andrew believes that physiotherapy should be multi-modal and exercise is the key to long-term therapeutic success. He has successfully treated a wide variety of complex orthopedic conditions and specializes in cancer rehabilitation where he helps current and former cancer survivors regain their strength, mobility, and function. He has also provided mentorship to other physiotherapists to help develop their handling and clinical reasoning skills.
In his spare time, Andrew has a special interest in sports rehabilitation and leads an active lifestyle. He is an avid golfer and enjoys going to the gym, playing soccer, hockey, and guitar.
Lifemark Physiotherapy Derry & Bronte
6990 Derry Road , Suite 203
Milton, Ontario L9T 7H3
Email: milton.physio@lifemark.ca
Andrew provides on-site physiotherapy Friday mornings at the Springers facility. Please visit Springers office for the intake form for an athlete's initial visit.
Functional Movement Screening: Parents may request a Functional Movement Screening Assessment that consists of seven functional tests which evaluate whole body mobility, flexibility, strength, motor control and functional patterning. This assessment can provide crucial physiological information to assist in preventing injury. Based on results an exercise program will be recommended that Springers will incorporate into each athlete's individual conditioning program. Parents will receive a copy of the assessment and accompanying exercises. Cost for assessment & accompanying report: $125
Sarah Gallagher M.A Sport Psychology, BSc
Optional Team Mental Performance Coach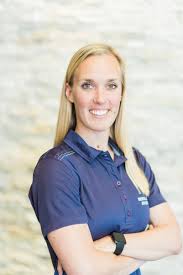 Sarah is a Mental Performance Coach for Sport with a Masters degree in Human Kinetics specializing in sport psychology from the University of Ottawa. She has always had a true passion for sport and athletics and has been involved in competitive sports for her entire life.
As a Mental Performance Coach, she provides athletes with the training of mental and psychological skills to ensure that they are able to use their physical capabilities to their maximum potential. Sarah uses a combination of academic knowledge and personal experiences as an elite athlete to guide athletes through mental skills training using sport psychology techniques and strategies which facilitate the enhancement of sport performance.
When an athlete develops the mental strength to compliment the extensive and intense physical demands of sport, higher levels of performance become consistent and regular, increasing the probability of desirable competitive outcomes.
The main purpose of mental skills training is to help athletes develop an overall competitive edge and perform at their peak potential.
In addition to having competed at the provincial, national and international levels in gymnastics, power tumbling and cheerleading, Sarah also has 14 years of experience coaching gymnastics and tumbling and is a certified personal trainer. Sarah's diverse experience in all facets of sport gives her a comprehensive understanding of all of the demands placed on an athlete. This enables her to fully relate to an athlete's needs, and enhances her ability to use a holistic approach to guide athletes towards optimal performance.
Sarah currently continues to fuel her passion for training and competing through the sport of Open Water Marathon Swimming, as well as competitive masters swimming.
Email: sarah@mentaledgeathletics.ca
Michael D'Angelo MA Sport Psychology, BSc.
Compulsory Team Mental Performance Coach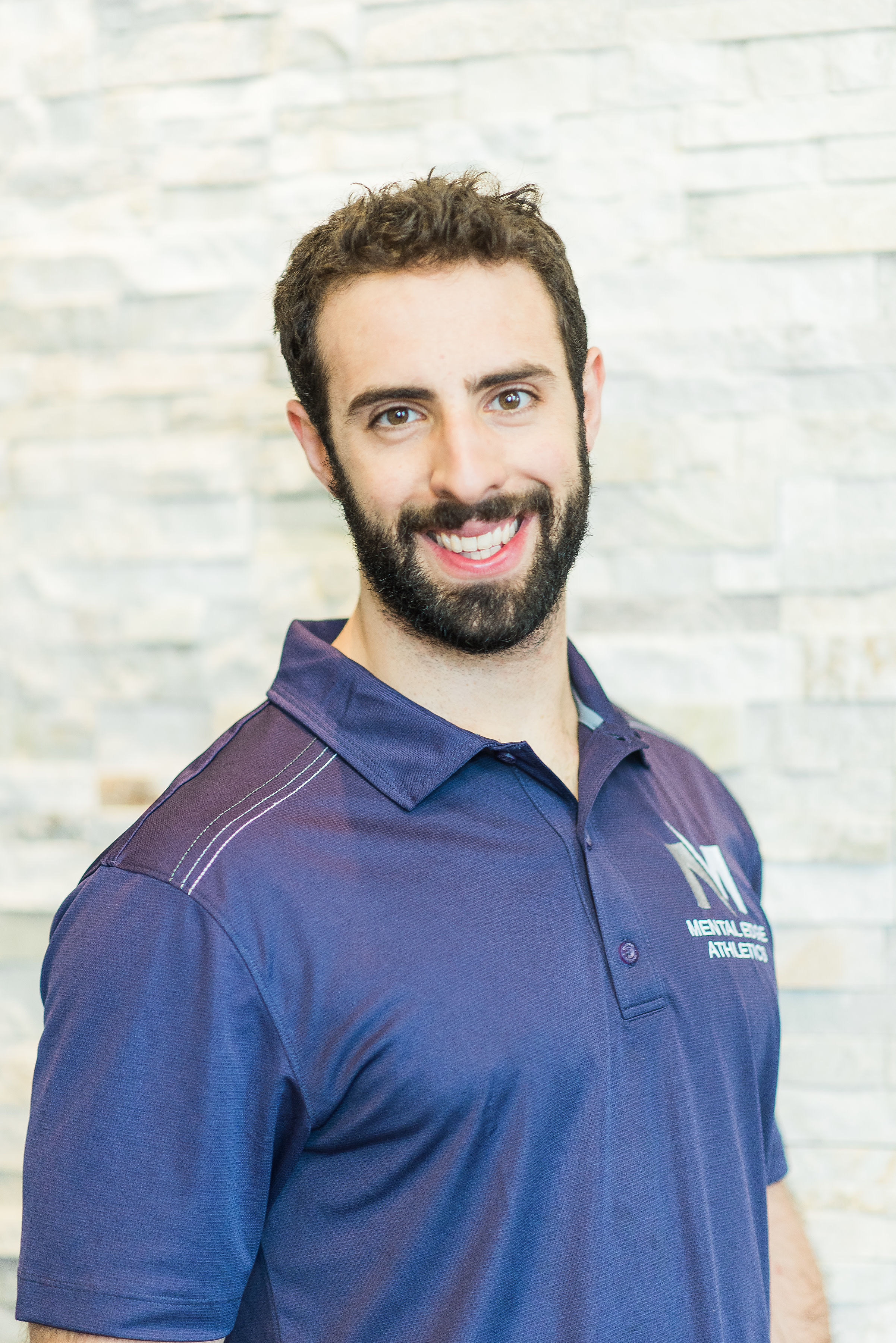 Michael is a Mental Performance Coach and a graduate from the University of Ottawa with a Masters degree in Human Kinetics specializing in Sport/Performance Psychology. Michael has been an athlete all his life playing in many high-level competitive sports, and has found a true passion in performance coaching as a way to give back to sport and other performance contexts.
As a Mental Performance Coach, Michael strives to bridge the gap between an individual's current performance and their performance potential by developing and building mental skills through in-game focus, event/game preparation, and emotional control – to name a few. When it comes to sport and performance contexts, Michael firmly believes that training the mind is as important as training the body. Many athletes have the physical ability to perform a skill, routine, or play, but not necessarily when it matters most. Michael is dedicated to helping individuals perform when it matters.
Michael has a broad experience in high-level competitive sport, led primarily by ice hockey. His hockey career was highlighted by being drafted to the Barrie Colts of the OHL in 2007. Michael went on to play three years of junior 'A' hockey at the provincial level.
Though Michael's personal experience in performance comes mainly from sport, he is a strong believer and advocate in applying the same principles of performance psychology to other disciplines such as music, performing arts, and the business world and is actively working with clients in these areas.
Michael continues to fill his competitive drive by training and competing in various local sporting events.
Author/Illustrator/ Mental Performance Coach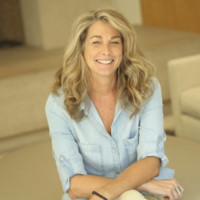 Lisa Mitzel is an NCAA National Champion, 6-Time All-American, and member of 4 NCAA National Championship Teams. She is a former Head Coach of Women's Gymnastics at Stanford University. She coaches many athletes and teams in mental skills, and has spoken at Stanford University, San Jose State, and TEDx. She has a BA in Psychology, MFA in Writing, and is published in Routledge Handbook of Applied Sport Psychology. Her book is for anyone who is struggling, for anyone who wants to achieve, and for those who truly love to be inspired.
Lisa visited Milton Springers in August 2018 and conducted an interactive workshop with Springer athletes teaching breathing techniques and tips on how to control thoughts and emotions and manage pressure in order to perform at their best when it counts! She teaches athletes and teams how to get in tune with their thoughts and emotions, generate positive synergy, and most of all…how to bring everything together to give them the best chance to WIN. This workshop was followed up with a session with parents on how to best emotionally support their athlete.
Lisa's books are available for purchase on Amazon. Links are provided below.
Lisa's books:
"Focused and On Fire" is a fresh, smart, and moving book for kids, teens, and adults. Coach Lisa Mitzel explains mental skills and portrays an authentic view of the athlete's inner journey. From surgeries, fears, and a broken back, Lisa takes readers through highs and lows to reflect on thoughts and feelings, and inspires them to confront battles and reach their goals. As a mental training expert, her true stories of many athletes and comprehensive curriculum teach methods to manage doubt, distraction, fear, pressure, and how to manifest success. In this powerful compilation, readers will learn self-awareness, higher-mind thinking, and the practice of believing that anything's possible.
"Focused and Inspired" is a shining light in the urgent need to change our sports culture. Athletes are tough, yet they feel nervous, frustrated, and confused. When a coach blames or shames, that negativity sticks in their minds, and frequent feelings of vulnerability increase abuse in sports. To thrive and be healthy, athletes need to feel intelligent, valued, and safe! Mental training coach, Lisa Mitzel, steps forward with crucial skills in emotional intelligence and forming a power-balance. For every coach, parent, and leader in athletics, heighten your awareness, make meaningful connections, and awaken a new sports era that is wise, successful, and safe!