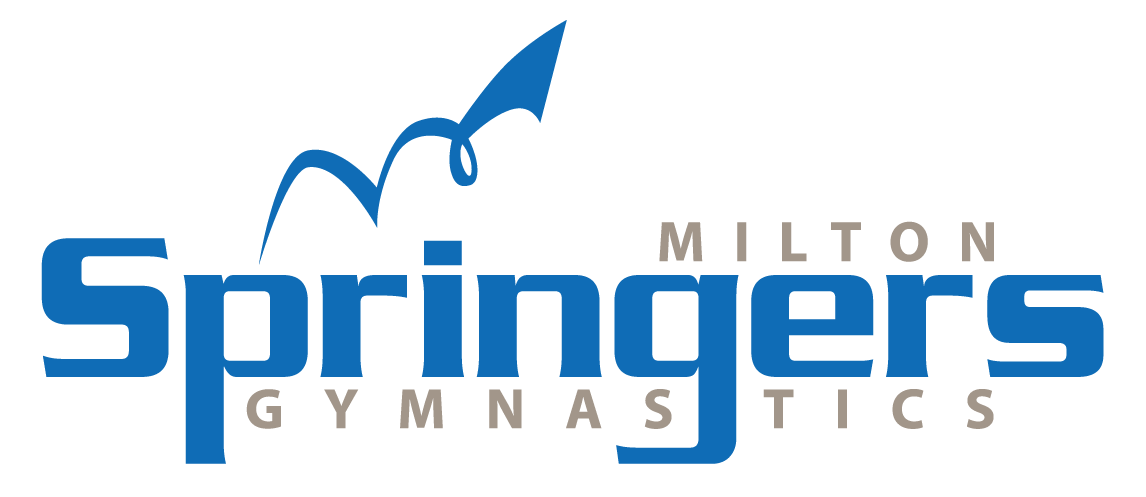 Fall session limited availablity for classes.
Top Content Title
This is an additional section to be able to add content
General Club Information
Milton Springers Gymnastics Club offers several entry points into our recreation programs year round. Fall (September entry), Winter (January entry) and Spring (end-March entry) off a full schedule of classes on weekdays and weekends while our Summer session offers modified schedule on 3 weeknights (no weekends).
Springer Registration Loyalty Program
Springers value their members and recognize their loyalty by allowing registrants in the current session to pre-register for the next session before opening to new members.
Discounts
Register and pay in full for all three sessions during our limited time fall promotion, and you will receive a 5% discount off the program fees (no discount off Gymnastics Ontario registration fee)

A 50% discount is offered off the lowest priced programs for a 3rd family member. (Applies to recreation classes only)

5% discount is offered to gymnasts taking 2 or more programs in the same session (same gymnast)


Springers offers a 20% discount off the lowest price for a 3rd family member registering in a day camp (March Break, Summer Camp, and PA Day Camps)

Classes are pro-rated in the session for registrations after the session has begun.
Refunds and Changes
Before the session starts: Full refund less $10.00 admin fee when cancelled a minimum of 24 hours prior to class day.

Within the first 3 classes: Refund or credit for remaining classes less $10.00 admin fee

After 3 classes: Credit only with medical note provided, less $10.00 admin fee (Gymnastics Ontario fee will not be refunded after 3rd class)

No credits within the last 3 classes

There are no make up classes or class credits for any reason.

Class changes can be made free of charge only when space permits. There may be a fee for any additional class changes.
Clothing Requirements
All children must wear suitable gym attire. For girls; a body suit and/or form fitting shorts or leggings and t-shirt. For boys; elastic waist shorts, track pants and t-shirts. No zippers, ballet skirts or loose fitting clothing is permitted. Long hair must be tied back. Dangling earrings, bracelets, watches, anklets or necklaces should be left at home. Gymnasts are bare foot in the gym. Parents assisting a child in a Parent & Tot class may wear socks if they choose. Open wounds or warts must be bandaged with athletic tape, which is available to purchase in the office or drug store if needed.
Selecting a Class
All classes are designed with specific ages and experience in mind. Ages and required experience are explained in the class descriptions. Please ensure that you are registering your child in the correct age/level class to ensure they are going to be receiving the best instruction possible. All gymnasts must be the correct age for the selected class within 30 days of the start of the session. If your child is currently enrolled and you are re-registering for another session, please ask your child's coach what would be the best class for them to register in.
How to Register
The best way to register is online during the advertised open registration dates. Online registration requires credit card full payment. Registrations are also accepted in person in the office. Accepted payments are cash, cheque, debit or credit card (no American Express). Registrations are NOT accepted over the phone.
If your chosen class is not available, you may put your child on a wait list. Those who join after the session has begun will be pro-rated for classes missed.
Classes fill up very quickly, please register early!!
Fundraising
Milton Springers is not-for-profit sports organization. It is governed by a Parent-run Board of Directors. Parents of the gymnasts involved in the competitive team programs assist with club events and activities. Participants in the recreation programs are encouraged to participate in voluntary fundraising campaigns that are conducted during the season. All proceeds assist with equipment purchases and coach training costs for all programs.
We Thank you for your support!
Inclement Weather Policy
If local schools are closed due to weather, daytime programs will be automatically cancelled. Should after school and weekend programs be cancelled, the website and Social Media will be updated with cancellation information. If possible, attempts will also be made to inform participants through email.
**Unfortunately there are no make up classes, refunds or credits for weather cancellations or unforeseen cancellations (i.e. power outages).
Bottom Content Title
This is an additional section to be able to add content